General Ridge Rules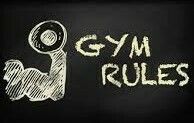 1.  Children 12 years old and younger are NOT allowed to work out or use equipment until they turn 13 and are added to parent's membership. Children must stay in the designated children's area unless going to the restroom, NO EXCEPTIONS.
2.  Appropriate shoes and attire must be worn.  No open-toes shoes, flip-flops, sandals, boots or risqué clothing. Shirts are to be worn at all times while working out.
3. 

NO MUDDY SHOES ALLOWED!


4.  Wipe down equipment with provided towels and spray after each use.
5.  No horseplay, fighting, swearing or abuse of the equipment.
6.  Unload bars and plate-loaded equipment after use.
7.  Their are inherent risks to starting any fitness program.  Please consult your physician before exercising if you have heart, circulatory, or respiratory issues or injuries.
8.  Each person must scan their keycard for admittance.  No coming in with another person.
9.  Members may bring a guest, but guests are not allowed to tan or use the sauna.  Guests must fill out a waiver and pay a $5 guest fee or $7 class guest fee. Guests must abide by all member rules.
7.  Be respectful of others and space.  If you're not using it, don't sit on it.
8.  Do not let anyone else use your keycard.  This is a member's only, secure facility.
9.  Pick up after yourself and throw paper towels in garbage cans. If you spill something, clean it up.
10. Do not drop weights or dumbbells.